Are Hippie Wedding Dresses The Same As Bohemian Wedding Dresses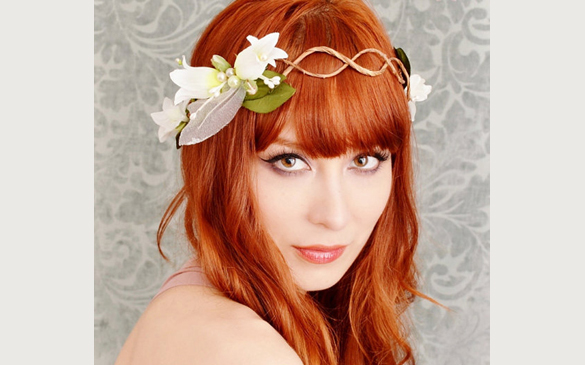 by Tina Boomerina (Christina Gregoire)
Hippie wedding dresses are a bit different from Bohemian wedding gowns, but there is a lot of overlap between the two fashion styles.  When I visualize a hippie girl, I think of an "earth mother" who lives on a commune in Northern California and loves to play her acoustic guitar. When I think of a boho girl, I imagine a young woman who lives in New York City and hangs out with her fiance who's from a wildly popular indie rock band.
Hippie wedding dresses are a bit different from Bohemian wedding gowns, but there is a lot of overlap between the two fashion styles.  When I visualize a hippie girl, I think of an "earth mother" who lives on a commune in Northern California and loves to play her acoustic guitar. When I think of a boho girl, I imagine a young woman who lives in New York City and hangs out with her fiance who's from a wildly popular indie rock band.

Pink Magic Fairy Wedding Dress
However, you can find hippie chicks living in flats in London and you can find bohemian girls wandering the small towns of New Zealand.
Hippie or Boho: What's the Diff?
Here's the real difference between hippie and boho:
Hippies can't afford boho.
Well, that's an oversimplification and it's not always true, but there IS some truth to it.
Boho style is a bit more like brand-name couture. Hippie outfits are a bit more eccentric... usually put together using cheap ethnic stuff.
As I've said, hippie fashion (hippy for those of you in the UK) and boho chic have a lot of similar elements, which makes my casual explanation a bit simplistic. And my explanation doesn't always hold true, because hippie clothing can be fabulously high-end and boho chic can be cheap. But, both styles always rock... and they rock even more as bridal gowns.
To me, hippie fashion is more innocent and down-to-earth, with simpler styling. Sometimes, a hippie outfit is created using an inexpensive, 40's vintage, thrift-store find... and a hit of street style.
Bohemian clothing is eccentric, flashy, edgy, and over-the-top. Boho is more likely to be designer duds made with expensive fabrics.
I'm a Former Hippie Chick
Well, what do I know? I'm not a clothing designer. I'm just an average, ex-hippie chick who lived in Haight-Ashbury for a short time, went to hippie rock festivals for a long time, and somehow made it through most of those well-known hippie clichés of the 60's and 70's.
And, while I can't (and won't) tell you what to wear for your wedding, I can tell you my impressions of various hippie and bohemian designs from an artistic point of view.
Magical Fairy Wedding Dress in Pink:
The light pink dress, in the photo above, is part romance... with its over-sized angel sleeves... and part rock n roll... with its neon embroidery. If you're the type of girl who keeps a copy of The Hobbit on your nightstand (or used to when you were younger), this could be the type of dress you want. Pink is fun and romantic... and very flattering in photos.
This magical fairy "wedding dress" would look cool with a yellow floral crown. And... you could go barefoot.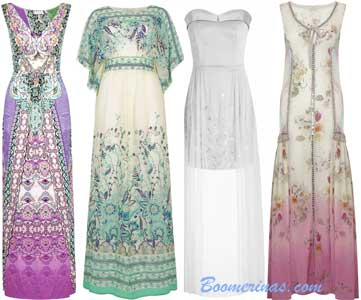 Boho Hippie Wedding Dresses Vintage Style
Hippie Wedding Dresses
Hippie wedding gowns can be any flattering dress worn by an organic "earth mother" type of chick... the kind of gal who adores patchwork and ethnic-peasant styles... the kind of gal who might spend hours and hours every day... writing love songs on her guitar.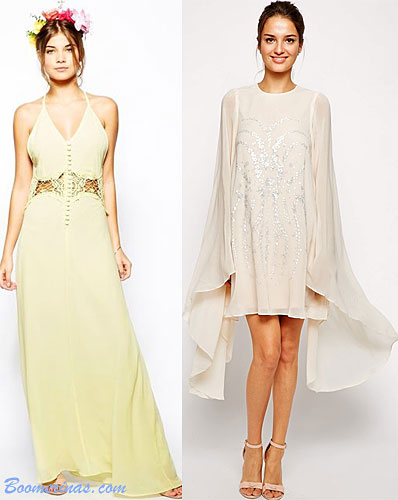 Hippie Wedding Dresses: Flower Child vs Rocker Chic
The two dresses above are both hippie wedding dresses.
Flower Child Hippie Wedding Gown (above photo)
The lemon-colored dress on the left is a casual, flower child wedding gown.  The overwhelming simplicity of this dress is what makes it "hippyish" in an Earth Mother type of way. It doesn't yell, "Look at me!" It whispers, "I am a goddess of the natural world. I don't need a lot of makeup and hairspray and Madison Avenue BS in order to be my true, beautiful self."
An archetypal hippie wedding outfit should include elements of nature (flowers), softness, beauty, elegance, and a unique, anti-establishment flair. It took me a long time to find a photo that embraced the perfect hippie aura... well, this photo's not perfect, but it's pretty darn close to what an authentic hippie bride should look like. (Of course, in the real world, you can wear makeup... but keep it subtle.)
Hippie Rocker Chic Wedding Dress (above photo)
A groovy wedding dress like the long-sleeved dress on the right (in the photo above) isn't for wallflowers.
This type of extraordinary "bridal" gown is for you if you're a chick who doesn't like to blend in. If your fantasy includes getting married on a stage with your favorite rock band playing, "Here Comes the Bride," Led-Zeppelin style, this type of dress may be your bag.
To me, this white dress is more hippie than boho, because its softness overpowers its edginess. The sleeves are like angel wings. A funky dress like this should be worn with a white floral head wreath (in keeping with the cherubic feel) and high, Elton-John platform shoes. Okay, not that high... more like disco high.
If you're over 50 or 60, and you remember hippie fashions from the first time around, you can still wear this type of Rocker Chic wedding dress. (Actually, you can wear any hippie or boho style if you keep the proportions right... and you keep things low key.
If you can't sew, you could find someone who didn't flunk home ec, and have her make a similar dress, using an old 70s pattern with angel sleeves. I'd go for a nice, heavy, cream-colored silk. Forget the sequins. I wish I could show you better pictures of this type of dress. The sleeves don't always look this long. And, you could change the dress so the sleeves come just past your fingertips.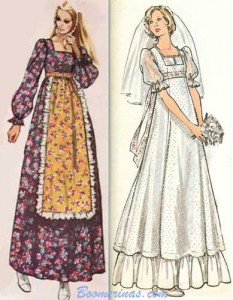 Prairie Wedding Dress 70s Vintage
Prairie Dress Wedding Gown:
P
It seems logical that hippies would adopt the flattering ruffles and lacy styles of prairie chic.
Back in the 60s, we were all about getting back to the land, baking banana bread, and living in the country... even though most of us lived in some urban center like Manhattan or El Segundo (wherever that is... somewhere in LA), rather than on a commune on Mt. Shasta. Hey, we were play-acting at being simple country folk, but all the world's a stage... or something like that.
So, if you're a woman who longs to live a simple and uncomplicated, but real, life with a good man, you might want to get married in a prairie dress. Just remember to avoid those hideously big shoulders found on 80s-style prairie dresses. And... NO sunbonnets. You are not Laura Ingalls.
real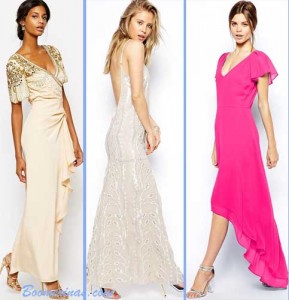 Boho Indie Wedding Dresses
Boho Dresses for Hippie Brides
I consider the outfits (above) to be boho.
Boho Wedding Dress One:
The first boho dress has several elements found in real hippies' closets during the 60s and 70s. The gown has a vintage 40s look. Hippies used to wear real vintage gowns that we found in thrift stores for a few dollars. Sometimes we wore those garments as they were. Sometimes we took them apart and reworked them to add a groovy element to our own clothes. It was all about creativity.
Boho Wedding Dress Two: 
Bohemian clothing is a little edgier than hippie threads. To me, the boho genre is more urban, more glam, and more closely tied to rock concerts. When a bohemian chick wears handmade jewelry, it is expensive and it came from her favorite boutique or she picked it up on her latest trip to Tibet... or maybe she just wears it in a way that makes you wonder if she did.
Boho Wedding Dress Three:
Bohemian wedding gowns can be white but, to me, boho usually means color. Brides wear red in China. Brides sometimes wear bright pink in India. And, it's cool to see things globally. To me, the bright pink wedding dress symbolizes the freedom to make your own rules.
Everyone uses the words hippie and bohemian interchangeably, but hippie is a tiny bit more vintage, while bohemian is a tiny bit more modern. Being a hippie is about living in your VW van at the beach and getting back to basics. Bohemians are a bit more worldly and ostentatious. However, both groups are artsy, environmentally aware, counter-cultural, musical, and anti-establishment (i.e. indie).
I'm not sure if all designers would agree with my distinctions, but I have lived through many fashion trends and I have had a varied repertoire of lifestyles.
Cliff Notes: How can you tell if a dress is boho style or hippie style? Answer: If you look at a dress and you hear Jimi Hendrix singing Foxy Lady, it's a bohemian wedding dress. If you hear Scott Mackenzie singing, "If You're Going to San Francisco, be sure to wear some flowers in your hair," the dress has more of a hippie vibe. If you hear a rainbow of songs... well... that's one freaking groovy dress.
Once you have decided to have a hippie, boho, indie wedding, you still have to decide what kind of bride-with-an-attitude you want to be. Have I included all of the unique nuances of hippie and bohemian styles? No way. That would take a small book.
Do you have to follow all of these rules? No, not if you're smart and creative. But, if you're an indie bride, you already knew that.