Affordable Wedding Gowns In Chicago
It' s been a minute since my last post and I have a fantastic excuse: bridal gown shopping with two sisters. Not sister-wives, mind you. That would be the easiest shopping trip ever; sew some sleeves on a peasant dress, clip in a long braid and you are ready to go. But no, these bitches decided to make it a little harder than that.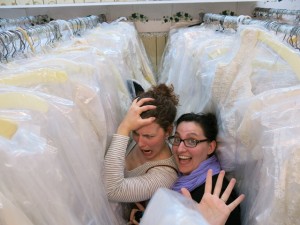 Calling on my experience in managing delegations, I organized a schedule that would make those Say Yes to the Dress ladies weep. It included ten Chicago bridal shops and some Turkish cuisine. It was ballscrazy. That said, both ladies departed with dresses in hand and money left over for bubbles and all the other crap you think you need for a "proper wedding" (I am speaking from experience on this last point). We also found a sweet Czech bar on Belmont that capped off the weekend.
Czech bar
Since I like to share the love, below is a list of the shops we visited along with notes. And mind you, we were on a straight.up.budget of $500, so we got creative.
1.  JCrew on Michigan Avenue. Appointment required (CALL WELL IN ADVANCE IF YOU WANT A WEEKEND slot). Photos are OK (just leave our man Andrew out of them).
JCrew
If you are looking for a hero, bridal consultant Andrew deserves a freaking halo. He squeezed us in with only a two day notice and accepted a muffin as bribery to allow us to try on a few more dresses later on in the weekend. Plus he was honest, funny and has a "vault" of dresses that aren't on the Interwebs. He didn't, however, seem to appreciate me calling my friend a slut while wearing  a gown, but I guess that is a good thing. What I LOVE about JCrew is that the dresses can be returned, which, for people like my friends, is as good as gold.
2. BCBG on Oak Street. No appointment required (retail shop). Photos OK.
BCBG
As they had a number of white dresses online, I thought it prudent to check it out in person. Unless you are looking for a little slinky neon number, this probably isn't a good use of your time. I mean, I clearly was looking at the denim pantsuit for my maid of honor ensemble but the bride nixed that. Lame.
online
3. Glamour Closet. No appointments necessary but I advise to arrive right when they open (10 AM). Photos are OK.
Glamour Closet
Dresses are organized by style and prices are clearly marked. All are floor samples and range in price from $600-4000. If you don't mind sharing the mirror with other brides, it's a GREAT find. Plus ample public parking. You need to be ready to buy that sucker if you really like it or risk it being scooped up by another bride while you are out hemming and hawwing over that $45,000 dress at Fancy Le Fancerson's Bridal. Since this is my blog, I can post a picture of my two brides and they can't do anything about it.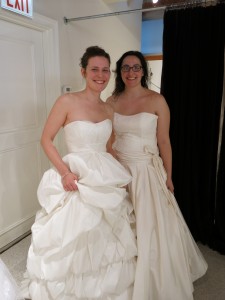 The one on the left is a hippie and the one on the right is a Harry Potterite. And I am fortunate enough to say I have known them for almost my entire life.
4. BHLDN. Appointment required (they book up about 30 days in advance). Photos OK.
BHLDN
This store, only open for a year, boasts Anthropologie's gorgeous bridal line. God damn this shop is beautiful. We went in with the intention of trying on a few party dresses as we couldn't secure an appointment. However, we were lucky enough to go during a quieter time in the day and snuck a few bridal gowns on. Did I tell you the shop is lovely? Seriously. Even if you are married, or if you aren't and don't want to go through the hoopla...visit if only admire the gorgeous patterns and vintage jewelry. I hear they offer champagne during the bridal appointments. We brought our own.
Anthropologie'
5. Jenny Yoo.  Appointment required. Photos OK.
Jenny Yoo
This is also a great store. What I really like about this designer is that she keeps the dresses simple; a fresh palate for the brides to embellish.  Yoo offers bridesmaids and brides a plethora of different fabrics, cuts and colors from which to choose and the staff are great.  Additionally, some of the bridesmaids dresses can sub for bridal gowns and all are pretty affordable. This was my third time to the shop and each bride I have taken has really liked the quality of the dresses and the overall experience.
6. Silver Moon. Appointment required. Not sure about photos but they seem pretty cool.
Silver Moon
We actually cancelled this appointment because we were overbooked but I have always loved Silver Moon's vintagey appeal (for both men and women). The prices seem reasonable and they offer a number of vintage accessories for the the fun bride.
7. Nicole Miller. Appointment required. Photos OK.
Nicole Miller
Wow, that appointment sucked. The store was empty and the bridal consultant was aloof to put it lightly. The bride was clearly uneasy and that just pissed me off. So, I would scratch this shop if you are looking to free up your schedule. Seriously. If it were between poking your eyeballs out with McDonald's straws or going here, I would start unwrapping your straw now.
8. Bella Bridesmaid. Appointment required. Photos OK.
Bella Bridesmaid
Bella offers a small selection of bridal gowns (one that actually made me cry when I saw it on my friend. WHAT? WHO AM I?) and zillions of bridesmaid gowns. Dupioni silk, chiffon, satin - patterns and single color dresses. And all pretty classy. Seriously. Between BHLDN and Bella, I see no reason to go to any other stores to buy event dresses. Except I am poor, but whatever. And I cannot say enough about the staff; attentive, professional, and really aware of what will look good on the women that visit their store. Basically, if you want to feel good about yourself, make and appointment and try on some sweet duds in their sunny showroom.
9. Macy's Bridal. Appointment required. No photos.
Macy's Bridal
Located in the old Marshall Field's building on State Street, I would say that this is your typical department store bridal salon. Brides give the consultants an idea of budgets and design and they in turn pull the dresses. For being a traditional shop, they pulled some excellent dress options for my hippie friend; enough that she was even considering one. They also offer appointments for bridesmaid dresses - most of which are traditional (e.g., Watter's brand, etc). Staff was attentive and perceptive...I can't complain. Plus, the food court in the basement offers a lot of nice choices of over-shopped induced rage.
Watter's
10. I Do Bridal Consignment. Appointment required. Photos OK.
I Do Bridal Consignment.
I pretty much think the lady who runs this place is pure magic. She can take an old dress and make it new. You don't want the sleeves? GONE! New neckline? Donezo. It's an older shop on the West Side, but we had fun. They offer used dresses and floor samples packed in so tightly you can barely get around. My friend found a Jenny Yoo floor sample at a significant discount and the staff (I think it's a mother-daughter shop) are more than happy to help. Plus it's very budget friendly.
What dress did each bride pick? I guess you will just have to wait. But I will let you know that even if the bride can't look trashy, her maid of honor certainly can.